Applique
Applique is an embroidery process where fabric is cut and sewn into designs/logos to give the item a unique look. In the meantime, this method reduces the stitch count of a design. We are fortunate to have a commercial bridge laser that allows up to 30 garments to cut and apply applique at the same time. This look is very popular with colleges and universities, and it can be used to make unique commercial logos. This process works on most garments, including caps.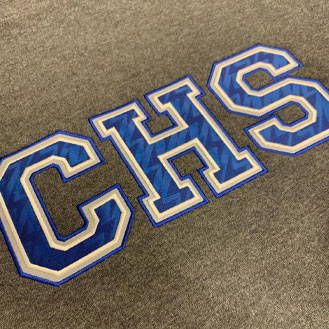 Laser Etching
Laser etching is a process where images are laser etched into the fabric. This process is inexpensive and is extremely popular with our polar fleece garments. Most images will appear as a darker shade of the fabric that is being used. In other words, black or dark navy garments do not work well with this process.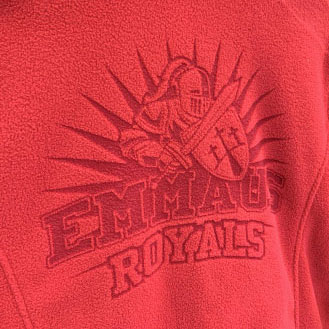 Sublimation
Sublimation is a process where special ink is applied to a light color synthetic garment and then heated. The ink goes into the fabric and presents a vibrant color image. This process is very popular for short run/high color images in the athletic sports area. For example, most bike and soccer jerseys are sublimated during manufacturing. You can now have a full color design on orders that are as little as one shirt. Please note that this process is limited to white or light color polyester garments. Check with our customer service department for recommended garments.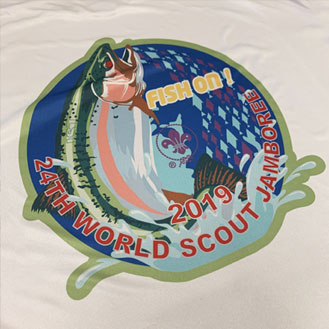 Embroidered Emblems
One of our most popular processes is embroidered emblems. Emblems can be made in any size or shape. They can be sewn onto garments or caps, or can even be heat sealed. Specialty threads like metallics and variegated colors are available. Patches can have a merrow (sewn) edge or a laser cut edge. All patches come with a plastic stabilization backing. Depending on the size and quantity – most patches are less expensive than direct embroidery.

We also manufacture Motorcycle Club patches. Custom full back patches or smaller chest and sleeve patches are available. Minimum order is just 12 pcs. Note we manufacture the emblems, we do not offer seamstress services of applying emblems to your garments.